Cedar Falls - Beautiful Scenic Unique Park Waterfall in OH
Cedar Falls is a beautiful unique waterfall located in Hocking Hills State Park in Ohio.
Cedar Falls is a beautiful scenic landmark waterfall that drops 50 lovely feet along Queer Creek in Hocking Hills State Park in south-central Ohio. The water at Cedar Falls flows down a large sandstone cliff face and drops into a pool of water in Queer Creek Gorge.
Image Source by Micah Maziar
Cedar Falls has a unique and distinctive look because the water splits into two halfway down the waterfall as it flows around a large piece of the rock that sticks out from the cliff face. The unique look of Cedar Falls is usually present except for times of heavy water flow. When the water is really flowing here the jutting rock cannot be seen though its effects on the waterfall can still be seen as it causes the water to foam up in almost fountain like fashion.
Cedar Falls is one the most popular and well known waterfalls in Ohio. People come to see the waterfall all times of the year even in winter when Cedar Falls freezes over and creates another beautiful unique sight to see.
The beautiful unique waterfall has been known to settlers in the region since at least the early 1800's. The first settlers in the area mistakenly named the falls for what they thought were nearby cedar trees. The trees were really hemlocks but the name Cedar Falls stuck.
Local Native American Indians must also have been well aware of Cedar Falls but they left no real signs behind unlike at nearby Ash Cave Falls where the Indians left piles of ash indicating they were there. Early settlers built a mill near Cedar Falls in the 1830's and some of the remains of the mill still exist.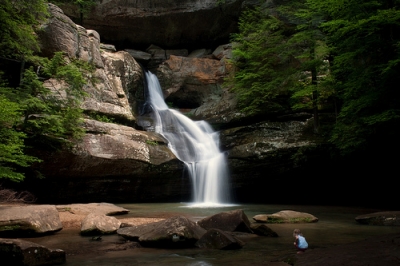 The parking area for Cedar Falls is located right along Route 374 between Routes 664 and 56 in south-central Ohio in Hocking Hills State Park about 40 miles east of Columbus and 80 miles northeast of Cincinnati. For overnight visitors the park has about 200 campsites and cottages available or visitors can stay at the Inn and Spa at Cedar Falls which is located nearby at 21190 Route 374. The Inn and Spa at Cedar Falls has rooms, cabins and cottages available to rent.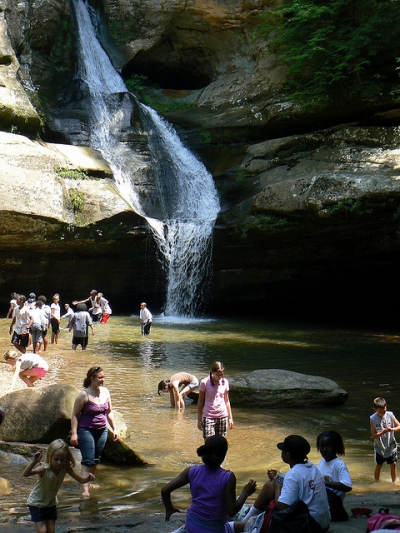 Most people who visit beautiful unique and scenic Cedar Falls love it so much they return to the falls many times.
For more see Ash Cave Falls - Beautiful Scenic Park Waterfall in OH
Vernal Fall - Beautiful Scenic Waterfall in Yosemite Park, CA
Jurassic Park Waterfall - Beautiful Scenic Secret Manawaiopuna Falls on Kauai Hawaii
10 Largest Homes in the United States
Tallest Buildings in Cleveland
Sources:http://www.1800hocking.com/hocking_hills_cedar_falls
3 comments